You've got a friend in me.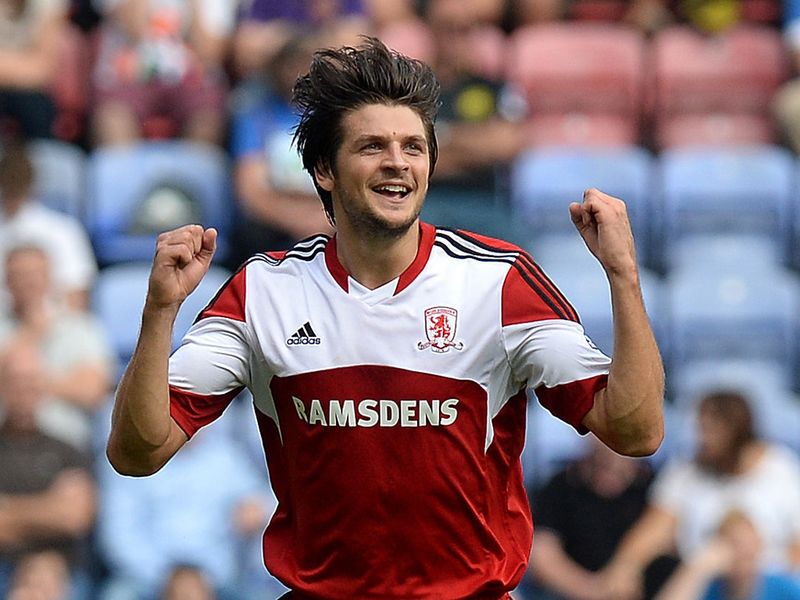 (Picture from skysports.com)
After starting as a professional at Exeter, Middlesbrough defender George Friend has forced his way up the divisions and has now become one of best full backs in the Sky Bet Championship. Friend, who can also play at centre back, has had the experience of playing in the Premier League with his one and only appearance to date coming against Manchester United at Old Trafford for Wolves. Not a bad way to make your Premier League debut eh? The 26 year old, who recently won the players player and fans player of the season awards at Middlesbrough, has become an established member of the first team squad and an essential member of the clubs defence.
Professional Career.
In a recent interview, Friend stated that the 2013/14 season went "very well" for him personally. He said that, "I won players player and the fans player of the season at Middlesbrough so it went really well for me personally". However, Friend is more of a team player and said that he "would have traded any personal accolades for the chance at the play offs" with Middlesbrough who finished in 12th position in the Sky Bet Championship at the end of the 2013/14 season under the stewardship of Aitor Karanka.
The 26 year old thoroughly enjoys working under Middlesbrough head coach Aitor Karanka, who was assistant manger to Jose Morinho at Real Madrid before joining the Championship club. Commenting on Karanka, Friend said "He's very professional and thorough" and is a "good manager". Friend also felt that the Spaniard has a "good group of staff with him as well that have come over and Craig Hignett a legend who has come back as assistant manager and the goalkeeper coach Leo who is a big influential character among everyone".
Next season, Friend is aiming to help Middlesbrough achieve a play off spot. He said that "it would be nice to get Middlesbrough back" into the Premier League after a five season stint away from England's top division. Friend also firmly believes that "Middlesbrough's a fantastic club" and that it would be great if the club could return to the Premiership after the 'Boro' spent eleven seasons in England's top division before being relegated in may 2009. Moreover, he felt that "anyone in the championship whether you've just finished above the relegation zone or if you've just missed out on the play offs year before or even got into the play offs and missed out you've all got to be aiming for the play offs and promotion". It is clear that Friend is enthusiastic about Middlesbrough and is proud to represent a club that played in the Premier League for eleven seasons
Playing against Manchester United in the Premier League for Wolves at Old Trafford was the "best experience of my life in terms of my football career" for Friend who "wants to play in the Premier League a bit more" and enjoy his "football at the highest level" again before his professional football career is over. He tells me that "I've only played in the Premiership once and it wasn't a bad stage to play on" and now has the taste to experience Premier League football again.
Friend has played against many difficult opponents in his career after experiencing professional football in the Football League and Premiership. However, Friend lists Manchester United duo Paul Scholes and Antonio Valencia and Chelsea's Eden Hazard and Oscar as the hardest players that he has faced. When playing against Manchester United for Wolves at Old Trafford, Friend said that "Scholes would keep pinging the ball out over my head perfectly onto Valencia who would then just cross it straight away and you couldn't get near them". If he had to choose though, Friend felt that Eden Hazard and Oscar were the hardest to play against because they were "very talented" and "kept the ball and were fast and made all the right decisions quick" therefore meaning that he had a difficult task in marking them.
His favourite goal that he has scored to date came for Southend against Southampton. Describing the situation, Friend said that he was about "25, 30 yards out and I curled it into the top corner so I'd have to go for that one as I surprised myself to be honest!" Friend is also "proud" of the two goals that he has scored for Middlesbrough this season against Wigan and QPR because "during my first season I spent a long time trying to score and I didn't manage to do it".
Friend lists helping Exeter return to the Football League, playing against Manchester United at Old Trafford in the Premier League and winning the players player and fans player of the season awards at Middlesbrough as his career highlights to date. Friend helped Exeter return to the Football League aged nineteen and chose this event as one of his highlights because it "was massive for us as Exeter had been out of the football league for a while and to get them back up to the football league was massive". Furthermore, he also said that "playing at Old Trafford for my Premier League debut and also winning the players player and player of the season award at Middlesbrough is a big thing".
Career Inspiration
Friend states that "watching Match Of The Day and being outside playing football and watching the world cup which is on at the moment" partly inspired him to pursue a career in football. However, aged sixteen, Friend wanted to be a rugby player but now feels he has made the right career choice as he feels that he would have "definitely be injured by now" should he have pursued a career in rugby. However, he said that he knew from an early age that he was "going to try it as a professional sportsman in some discipline and it turned out that football was the easiest route in to and that was what I was best at".
The Middlesbrough defender is currently undergoing a degree in Sports Journalism and started a blog called Ipredictario before the world cup. Friend said that the blog was "part of my degree that I've just finished in Sports Journalism and one of them was to do an online blog and I thought it would be a good idea with the World Cup and all the build up around it to do something like that". When asked what his main writing topic was, Friend said "It was basically looking at the players that might be selected and making it quite personal for me".
His main piece of advice for any upcoming professional players out there is to "work as hard as you can and listen to your coaches because there are a lot of good coaches now a days in the game". Furthermore, he firmly believes that all upcoming professionals should not disregard their education because "you don't know what's going to happen injury wise or you might not even like football in a years time or five years time so it's good to have options" in what Friend calls a very cut throat business.
After his professional football career is over, Friend is considering a career in Sports Journalism and is currently undergoing a degree in the subject. He may even go on to be a coach and hopes to start his coaching badges in the next few years. However, it is clear that Friend has a real passion for the game that all successful footballers should have and does not take his position for granted. It was evident throughout the interview, that Friend is passionate and enthusiastic about Middlesbrough FC which is a club that is really close to his heart. The 26 year old is an excellent role model to younger professionals and shows that by never giving up, you can play football at its highest level. Aged at 26, I'm sure that George Friend will go onto have many more successful seasons as a professional footballer.