The Flying Scotsman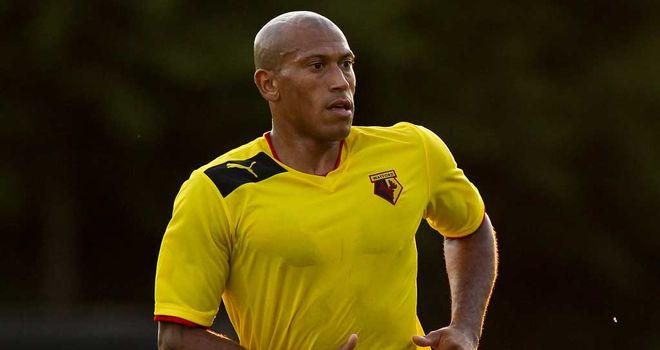 35 year old Scotland international Chris Iwelumo is a well travelled striker whom has experienced playing in all four major leagues in England, the SPL, the Danish Super League and the Second Bundesliga in his professional career. Iwelumo has played for the likes of St Mirren, Aarhus Fremad, Stoke City, Brighton and Hove Albion, Alemmania Aachen, Charlton, Wolves, Burnley, Watford and St Johnstone in a near 20 year career in the game and has scored over 100 professional goals. Moreover, Iwelumo has also had the experience of being capped at International level by Scotland and to date 'Big Chris' has amassed 4 caps in his career.
Playing Career.
This season, Iwelumo managed to lift the Scottish Cup with St Johnstone whom beat Dundee United 2-0 at Celtic Park. Describing the team's victory he said "In all of the 130 year history of St Johnstone they've never made it to the final of any competition and they've never won anything. So to do that and in my four months north of the border was amazing". Iwelumo quoted "it's been a fantastic time" at the Scottish Premiership club. He said that he "never thought" that he "would play in the SPL" and that "It's been a fantastic experience playing at places like Celtic Park".
From a personal note, he felt that the "first 6 months lets say for personal reasons never went the way I wanted it to go" and said that he "can now see the light at the end of the tunnel" after "getting through that personal period". However, he tells me that he now has his promotion winning medal after Scunthorpe gained promotion to League 1 which takes Iwelumos promotions in his career to 5. In addition, Iwelumo said that he has also "come out with a Scottish Cup winners medal" and felt on reflection that" its not a bad year really" for one that the 35 year old felt was a "darker period".
He said that working under Gianfranco Zola at Watford was "great for me" and that he "loved" his time under him. On Zola himself, Chris said that "he is an absolute gentleman of a man" and said that all the players at Watford "loved playing and working for him". In addition, Iwelumo added that Zola "always took part in training" and "put a few of us to shame". Although his time at Watford wasn't his best spell in his career, he thoroughly enjoyed his time with the Hornets and said that he had a "great time". He said that "It was a great honour for me" to be named captain for a few games under Gianfranco Zola's tenure at the club. "It was another great group at lads" Iwelumo felt and said that the players at Watford "achieved something very special under Dychey (Sean Dyche)".
He said that playing for his home nation Scotland was "very emotional" and that "there is nothing that can match it". When asked if he is disappointed that he didn't get the chance to achieve more caps for his home nation he said "when you're not firing on all cylinders than you've got to accept that you're going to be left out". He tells me, "I was scoring goals week in week out for Colchester and I never got that opportunity. I went to Charlton and I was scoring goals week in week out and that then opened the door for the Scotland B team. Then I went to Wolves, I carried my form on. I was scoring goals and I finally got in to the full squad". He feels that "If you can do it for your club then that's when your country starts chatting". Iwelumo continued to score goals after joining Burnley from Wolves. However after moving from Burnley to Watford a year later, he said that "the goals dried up" which led to him falling out of favour with Scotland.
After playing in all four of England's major leagues, Chris firmly believes that "the higher you go the easier it becomes". He feels that the Sky Bet Championship has an "amazing standard" and when he made the step up to the Premiership with Wolves, Iwelumo found "the premier league easier". In his opinion, League 2 is the hardest league in England because "There is no time on the ball and your getting smashed left right and centre".
Career Inspiration
Iwelumo was set to become a teacher when he was younger. He told me that "I finished my schooling and got all of the qualifications that I needed to be a teacher". On the back of his studies Iwelumo "was playing football and I always loved football and I was good at it. I was the only black family growing up as well and I remember Celtic were going to buy Ian Wright and Mark Bright from Crystal Palace for £1 million and Celtic could have had them for that price but turned it down. Ian Wright then went on to Arsenal where he became the legend that he is and from then on I was always Ian Wright. That's who I always wanted to be and that's why I inspired myself to play football at that level". Iwelumo doesn't regret his career option and states that "I've been going 20 years now so long may it continue. Im still going strong!"
The Scotland international felt that he could not "say one person" when I asked him who had helped him the most with his career. He feels that he has had "good family" behind him whom have helped him through the many highs and lows that football entails. Furthermore, the 35 year old felt that he has "met some great characters in the game" who have "been strong figures for me and have helped me do the things I have achieved". The striker still speaks to three of his previous managers. Those are Mick McCarthy, Tony Pulis and Phil Parkinson who Chris goes to "whenever I have had a big decision to make".
Iwelumo's main advice for anyone wanting to become a professional footballer is to "have a plan or goal and stick to it". He feels that "education is very important" as "you always need something that you can fall back on" if you do not succeed in becoming a professional footballer. Moreover, the experienced striker advises "young players to make sure your educations in tact but never let go of that dream of becoming a footballer". In addition, another main piece of advice that Chris gave was "have no regrets"
After football Chris hopes "to give something back to the game" and hopes to do that through "coaching or managing".
Chris Iwelumo is a vastly experienced professional footballer who has had a vastly successful career to date. A player whom has made over 500 career appearances scoring more than 100 goals, Chris still has a great affection for the game even at the age of 35 and still hopes to prolong his career for a few more years. Iwelumo has a great attitude and is a true gentleman and professional who all footballer both young and old should look up to. By following Chris advice and professionalism, you are already fighting half the battle and your dreams of becoming a professional football may come true.